Back to Listing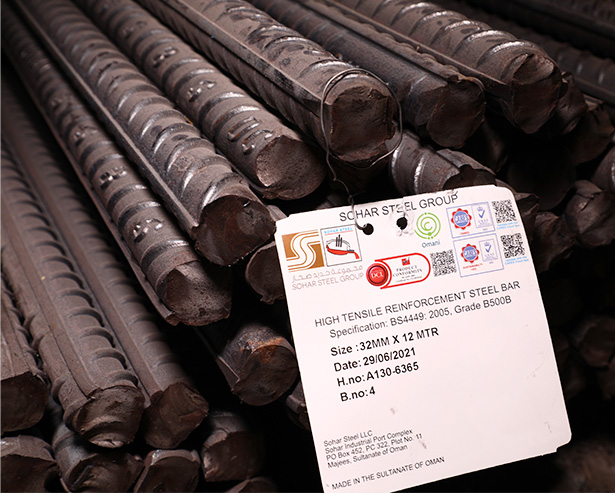 Sohar Steel
Steel reinforcement bar or simply rebar is the main finished product of Sohar Steel Group. The reinforcing bars are manufactured according to British Standard BS 4449:2005 (B500B).
These rebars carry "SSBS", which is a registered trademark and certification mark for CARES products. It is also branded as "DCL Product Certification" when requested by the customer.
The prime advantages of Sohar Steel's rebars are low carbon content, higher yield strength, higher tensile strength, and percentage elongation.
HIGHLIGHTS
Low carbon content
Higher yield strength
Tensile strength
Enquire Now
Available Diameters
ABOUT THE MANUFACTURER
MAIN USES
Sohar Steel Group is one of the major producers of new generation high-strength steel reinforcement bars in the Sultanate of Oman. Sohar Steel Group is a highly regarded business house that has been at the forefront of the Sultanate's building materials industry. From its humble beginnings as a building materials trader four decades ago, the group has since branched out into steel manufacturing. The Rebar manufacturing plants are set up with technical collaboration from IDC, Turkey. The steelmaking facilities are from Danieli, Italy. Sohar Steel Group has CARES, DCL, and ISO Certifications.
Reinforcing steel bars are used to help concrete withstand tension forces.
OTHER PRODUCTS YOU MAY LIKE
Find an Outlet
Near You
Wherever you are in the UAE, we've got an outlet near you. Use the tool below to find the one nearest to you.
Explore Our Locations