Back to Listing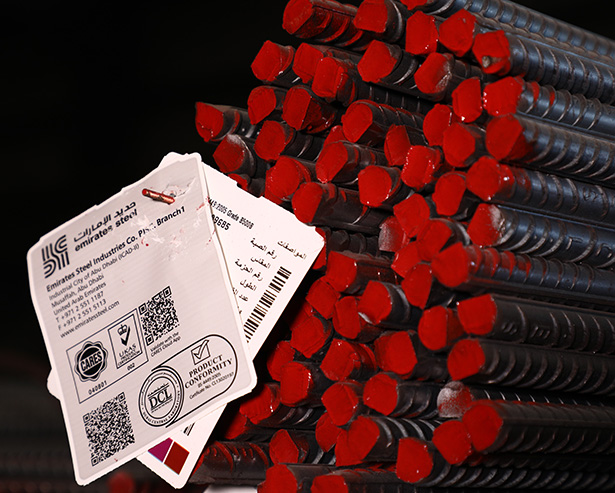 Emirates Steel
Emirates Steel is proud to be one of the leading manufacturers of reinforcing bars (rebar). A long steel product widely used in the engineering and construction industries, our rebar is globally recognized for its high-quality properties. The outstanding quality of the iron ore used in production, using advanced manufacturing processes and strict implementation of quality control procedures, has clearly contributed to the domestic and international reputation of the product and its applications.
Enquire Now
Available Diameters
ABOUT THE MANUFACTURER
PRODUCT OVERVIEW
MAIN USES
Emirates Steel is a state-of-the-art integrated steel plant that incorporates the latest innovative technologies in manufacturing, efficiency, and sustainability, to deliver the high-quality products, services, and solutions that you need for your business to thrive today and tomorrow. Based in the industrial sector of Abu Dhabi, Emirates Steel produces home-grown, high-quality steel products that are shipped and used across the world and delivered to major global markets for the construction, engineering and energy sectors. At Emirates Steel, we are committed to refining our manufacturing processes and creating steel sustainably and safely, whilst supporting the growth of the non-oil heavy industry sector of the United Arab Emirates.
Our rebars are globally recognized for its high-quality properties. Reinforcing bars strengthen concrete and keep it in tension to improve its resistance and mechanical performance. The steel bars' patterns ensure a perfect connection with the concrete.
Used exclusively in civil engineering, rebars are designed to provide tensile strength to concrete.
OTHER PRODUCTS YOU MAY LIKE
Find an Outlet
Near You
Wherever you are in the UAE, we've got an outlet near you. Use the tool below to find the one nearest to you.
Explore Our Locations