Back to Listing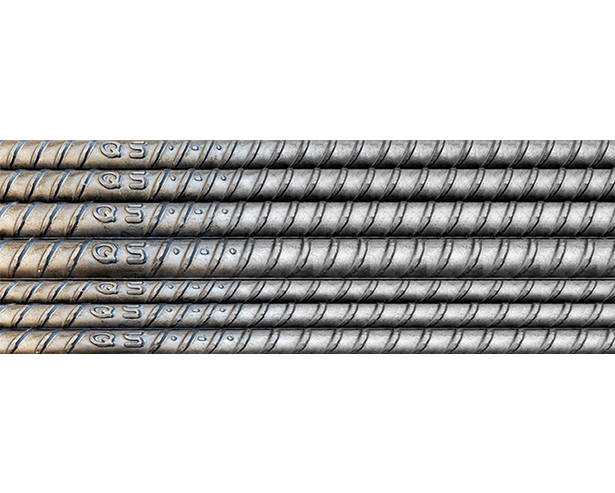 Qatar Steel
Deformed bars manufactured at Qatar Steel comply with various national and international standards such as BS 4449:2005 Grade B500B/Grade B500C (Nuclear Grade & British), SASO ASTM A615:2015, ASTM A615 Grade 40/Grade 60/Grade 75/Grade 80 (American) & QS 600 (Qatar Steel High Strength Rebar).
On every deformed rebar, the registered trademark, 'QATAR STEEL', is rolled on every deformed rebar at an interval of about one meter long with all identification marks.
HIGHLIGHTS
Advanced technology
Superior surface quality
Enquire Now
Available Diameters
ABOUT THE MANUFACTURER
MAIN USES
The first integrated steel plant in the Arabian Gulf was Qatar Steel Company, which was established in 1974 . Commercial production started in 1978, and the company became fully owned by Industries Qatar (IQ) in 2003. The company celebrated its 30th anniversary on Oct 27, 2008, and was recognized as one of the top four steel producers in the Middle East by MEED, a Middle Eastern business intelligence company, in 2008.
It is used to provide resistance to support design loads, durability, and for aesthetic purposes by providing localized resistance to limit cracking and temperature-induced stresses. Provides resistance to concentrated loads by spreading it through a wider area. Assists other steel bars in accommodating their loads by holding them in the correct position. External steel tie bars constrain and reinforce masonry structures, sometimes as a means of building conservation. In the case of reinforced masonry, some masonry blocks and bricks include voids to accommodate rebars to carry tensile loads, and the rebar is secured in place using grout.
OTHER PRODUCTS YOU MAY LIKE
Find an Outlet
Near You
Wherever you are in the UAE, we've got an outlet near you. Use the tool below to find the one nearest to you.
Explore Our Locations