Back to Listing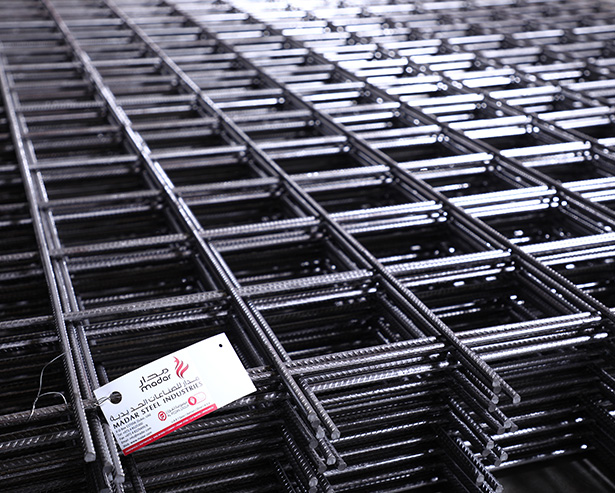 Wire Mesh
Welded wire mesh, also known as welded wire cloth or welded wire fabric, is an extremely versatile product with thousands of applications worldwide. It is manufactured by arranging wires in a grid pattern and welding them together using a resistance welding process. Madar is a key manufacturer and supplier of welded wire mesh in Dubai as well as other UAE emirates. Madar offers a range of high-quality welded wire meshes, including square, structural, and long meshes. In addition, we supply cold-rolled wires in coils and special lengths of cold-drawn wires to various industries across the UAE. With experienced technicians and strong management, we can ensure that our products are of the highest quality.
Enquire Now
Available Diameters
Available Width
ABOUT THE MANUFACTURER
PRODUCT OVERVIEW
MAIN USES
Madar Wire Mesh Plant is a specialized world standard manufacturer of wire mesh products offering high-quality Square, Structural, and Long Meshes, all produced through the fully computerized machine, Austrian origin production line with a speed of 180 shots/min. Additionally, Madar offers Cold Rolled wires in coils & special lengths of cold-drawn wires. Madar was established in 2004 to expand Al Fozan Group's (KSA) building materials business across the middle east. The company is headquartered in Dubai, UAE. The company is also known to be one of the experts in the manufacturing of wire mesh and cutting and bending of steel rebar. The 70,000 square meter Rebar processing plant has a capacity of around 150,000 tons of cut and bend annually and sources its reinforcement steel from different countries all over the world.
Our wire mesh products are made from low-carbon mild steel wire rods with tensile strengths ranging from 350 to 500 N/mm2. They are manufactured on a fully-computerized mesh welding machine to meet customer expectations. The wire rods we use to produce our wire mesh are of the highest quality, sourced from both local manufacturers and well-known certified rolling mills around the world. As a result, our wire mesh meets the highest standards in terms of strength, squareness, and durability. You can buy welded wire mesh from our outlets in Dubai, Abu Dhabi (& Al Ain), Ajman and Ras Al Khaimah. Madar is one of the leading manufacturers and suppliers of welded wire mesh in Dubai and the rest of the UAE.
It is widely used in agricultural, industrial, transportation, horticultural and food procuring sectors. It is also used in mines, gardening, machine protection, and other decorations. Weld mesh is the term given to the kind of barrier fencing that is manufactured in square, rectangular or rhombus mesh from steel wire, welded at each intersection. Welded wire fabric (WWF) is also sometimes used in reinforced concrete, notably for slabs.
OTHER PRODUCTS YOU MAY LIKE
Find an Outlet
Near You
Wherever you are in the UAE, we've got an outlet near you. Use the tool below to find the one nearest to you.
Explore Our Locations